Airlines Emphasise Cleanliness and Hygiene in Fight Against Coronavirus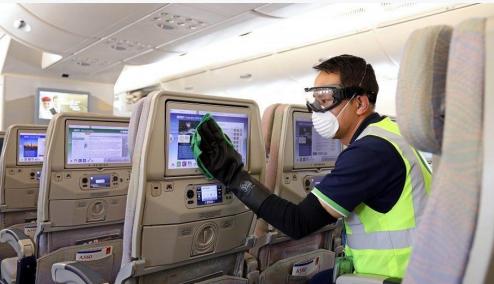 Social distancing is vital in the fight against coronavirus, These airlines are social distancing But safe travel is, of course, more than just social distancing. The International Air Transport Association (IATA) has published a list of guidelines airlines should follow to protect passengers and crew from contracting the illness. IATA's guidelines, which are not mandatory for airlines to follow, cover a range of measures such as screening passengers for fevers, equipping cabin crew with surgical or medical protective masks, and routinely disinfecting aircraft. This is what you should be looking for from your airline…
Clean Interiors
Flying with an airline that cleans the interiors to the highest possible standards. In recent years, with the advent of the lowcost
carriers (LCCs), airlines prided themselves on having quick turn-round times. This was how quickly they could land at an
airport, have all the passengers disembark, unload all the bags and then get a new set of passengers and their bags back on. At
such times, cleaning the aircraft was left to airline attendants as an extra task.
Airlines are now saying they are stepping up their cleaning regimes.
Strong disinfectant is being used, and all areas of the aircraft are routinely being cleaned and disinfected including (but not limited to) "…surfaces and fixtures in the cabin including tray tables, armrests, air vents, controls, seatbelts, entertainment screens, handles and latches" (this from Qantas).You will see airlines now saying their standards "exceed CDC and Airbus guidance". This means a comprehensive cleaning programme for all aircraft including "a regular schedule of standard and deep-clean procedures with all touch surfaces, from seatbelts and tray tables to galleys and lavatories, being sanitised and disinfected thoroughly during every cleaning" (Qantas again).
You will also hear mention of the use of "an advanced antimicrobial protectant that kills viruses, germs and bacteria on
contact for 14 days (this from Allegiant.)
On board hygiene
It's also hopeful that the airline will have disinfectant wipes stocked on all aircraft and available to customers by request.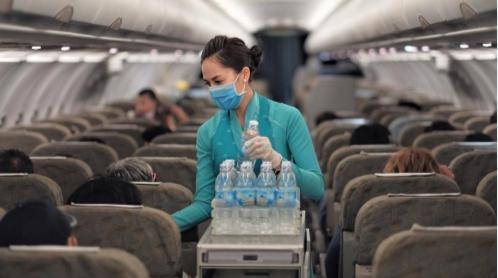 Air purity
Modern aircraft score more highly on this. You are hoping for something along the line of this from Allegiant
"Good quality air exceeding HEPA standards thanks to our VOC
(volatile organic compound) filters, which remove additional
organic compounds. On average, cabin air is changed every three
minutes through a continuous flow of fresh and VOC-filtered air".
Inflight service items
Many airlines are now serving these pre-packaged and sealed.
Delta, for instance (Delta customers to get pre-packed snack bags on domestic flights), has introduced pre-packed snacks bags on domestic services, as part of measures aimed at decreasing onboard touchpoints during the coronavirus pandemic.
Crew members wear gloves during inflight service, and service frequency has been reduced to once per flight. Customers can use
the Call button to make additional service requests.
Inflight magazines
Many have removed them. Emirates, for instance, Emirates issues safety measures for travelers says that
"We will operate a modified inflight service programme on these flights. Magazines and other print reading material will not be
available, and while food and beverages will continue to be offered onboard, packaging and presentation will be modified to
reduce contact during meal service and the risk of infection."
Face masks
The science community is still divided about the effectiveness of face masks, but some airlines have already mandated that flight
attendants will wear them. American Airlines' flight attendants to wear face masks Meanwhile some airlines have gone further, and require passengers to wear them as well (such as Emirates)
Message for Valuable customers
If you are currently traveling and being impacted by travel restrictions, or you are due to travel and have booked with Eco Travels, please read the below FAQs in addition to what you need to do.
FAQs
Please note that the below FAQs refer to Eco Travel's own change and cancellation policy. Supplier fees and terms may also apply.
Q: I am currently overseas and am concerned about how I will get home. What can I do?
A: We are currently working through all bookings in order of date of departure. If you are departing within 48 hours or would like to depart within 48 hours, the first thing you need to do is contact Eco Travels on this number: 0272 16 17 18 or Email: info@ecotravels.co.nz.
If you are traveling outside of 48 hours, then please email your agent for more information with your contact number so an agent can contact you.
Q: Can I put my booking value towards a future credit?
A: Yes, we are happy to offer our customers the option to either rebook their travel if they know their new travel dates, alternatively, we can place the value into a credit or a Travel Voucher. If you keep your money on file, we will waive our standard cancellation fee. However, supplier cancellation fees may still apply as this is out of our control. When the time comes to rebook amendment fees may apply.
Q: Can I cancel my domestic booking?
A: For all domestic bookings paid in full our normal cancellation fees apply. Supplier fees may also apply.
Q: How long can my travel credit sit on file?
A: Credit expiry date is subject to supplier terms and conditions; please contact your Eco Travels Consultant to discuss your options.
Q: Who do I contact if I have an existing booking?
Please contact your Travel Consultant through phone or email else click here to find a store near you.
If you are away and trying to get home
The situation is unprecedented. Most governments are advising against all
travel or against all non-essential travel. For everybody who is away and
trying to get home, we advise that you try to do so immediately. If you
can't reach us or your airline, go to the airport with your things and try
to board a flight there.
*List of government advice sites*
https://www.safetravel.govt.nz/
https://covid19.govt.nz/latest-updates/
https://www.health.govt.nz/our-work/diseases-and-conditions/covid-19-novel-coronavirus
Call Wait Times
We know that you are experiencing extremely long wait times when trying to call us. We understand how frustrating this is when you are urgently looking for answers, however due to the number of calls we are asking our customers to please only call if you are traveling within the next 48 hours.
Our Travel Consultant is prioritizing cases according to the urgency of the booking as they are currently dealing with multiple customer booking changes. Please remember that our experts value you and your business and are working through these changes as quickly as possible.
Eco Travels in New Zealand's biggest travel company. We have supported our customers through similarly difficult situations before, and will continue to do so in the future. We are here to make sure that you and your family are safe in any travel plans and we will of course be here for you when you are ready to travel again.
Subscribe
Want to be notified when we launch a new package or an update. Just sign up and we'll send you a notification by email.